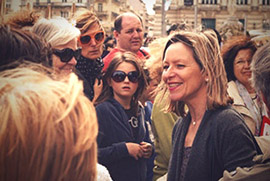 Twenty years of expérience and enthusiasm for History, painting and architectural heritage;

Twenty years of passion for Art, source of emotion, humanity and conviviality...

If you want to discover, understand and enjoy Montpellier and its area, I would be happy to offer my skills and enthusiasm.

I especially appreciate the diversity of ages, backgrounds, cultures ... This is one of the treasures of my job, a beautiful cultural and human adventure.

A FEW WORDS ABOUT ME
I was born in Montpellier; my interest in arts and the transmission of knowledge led me to a specialized curriculum over the years, and to obtain a Masters in Art History issued by the University of Paris I - Panthéon Sorbonne.
MY PROFESSIONAL EXPERIENCE
Since 1986, I am Guide Speaker at the National Office of Historic Monuments and Sites, and I worked at the Archaeological Society (Languedoc Museum today). I am a member of several institutions such as the Montpellier Tourist Office and the Fabre Museum.
I am also co-founder and host of several associations for the promotion of cultural heritage in Montpellier and the Languedoc area.
---